Daily advice link - Freelancer? We are hiring!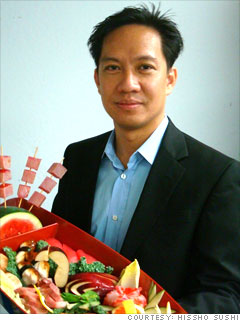 When Philip Maung began a sushi-making company on his dining room table 14 years ago, a 46,000-square-foot headquarters with ping-pong tables, spontaneous karaoke sing-a-longs and smiling employees seemed like a distant dream. Yet, over the last decade and amid a struggling economy, Maung has built his business into a vibrant food service distribution company that currently manages over 400 sushi bars in high-end grocery stores, cafes, hospitals and universities throughout the United States.
A true embodiment of the American dream (he came to the U.S. in 1989 with $13), Maung saw a business opportunity in a practically destitute sushi market on the east coast. He chose Charlotte as the company's base because of the number of banks the city had, but quickly learned they were hesitant to give him a loan without previous successes. Pooling resources with his wife, Maung says Hissho started with many sleepless nights.
Quality product and detailed service was what brought Hissho early success, allowing it to snowball into the franchise it is today. Hissho boasts 62% 3-year growth in an economic decline.
"We don't advertise," Muang explains, "People call us. Our business was built through word of mouth. Our success came because we built relationships with one partner at a time and we stand behind our product."
Muang likens Hissho to Starbucks, calling his sushi an "affordable luxury." The product is also in areas people who are no longer eating out usually tend to go: the supermarket.
Hissho's mission to produce the highest quality sushi with the best ingredients starts at its hub in Charlotte. All of Hissho's chefs spend seven to 11 weeks training at the company's headquarters before relocating to a Hissho sushi bar in affiliated market places.
Despite his company's dominance of the supermarket sushi culture (reporting $34.6 million in revenue for 2010) and an invitation last fall to hear President Obama speak to Congress, Maung is happiest about his company's recent internal transformation.
"The first 10 years we didn't have a company culture at all," Maung says. "We worked so hard. I began to realize that money wasn't everything and our people were tired. We've created a second home for our employees and we make sure they have fun. Nothing is going to happen if you don't take care of your people."
[Via - Unusual Business Ideas]
How I Turned Hobby Into A Thriving Crowdsourcing Business. Part 3
Estimize.Com Bets That Crowds Are Smarter Than Wallstreet Analysts.
Bootstrapping 101: Tips to Build Your business with Limited Cash and Free Outside Help
From 0 To $30,000 A Month With Dropshipping
New Startup Pays Experts To Answer Questions
The Lean Startup: How Today's Entrepreneurs Use Continuous Innovation to Create Radically Successful Businesses
Need Perfect Software Name? Try Crowdsourcing.
Category: Uncategorized