Posts in category 'Uncategorized'
Endeleza is a nonprofit organization that provides affordable and quality education and encourages community empowerment and sustainable development in Buri, Kenya. 

Why Endeleza Matters

By law primary education in Kenya is free, but in practice it does not happen: teachers don't get paid in schools and families have to compensate their salaries. Children who do not have financial means to pay their school fees are deprived of access to education. As about half of the population lives below the poverty line in Kenya, a significant portion of citizens has no access to basic sanitation, medical treatment, regular food and live in precarious conditions, which further impairs the quality of education and perpetuates the cycle of poverty across generations. 

At the moment Endeleza provides education and meals for 300 local children in Kenya. This association is growing, attracting new members who believe that much more can be done for local children. 

How Bitrix24 Helps 

CRM, Calendars, Tasks and Projects are the most necessary tools for the association. The team believes that Bitrix24 improved their productivity, as their tasks are getting more organized and on time. Bitrix24 CRM helps Endeleza attract new members and grow as association. By the end of the year Endeleza plans to double the number of people who collaborate via Bitrix24. 

"Previously the NGO used Asana but when we needed a CRM with multiple users, I ran behind several systems and performed tests on them. Bitrix24 was the one which gave us greater user flexibility and more utilities. Moreover, our concern was to pass on the money to African children. As Bitrix24 is a free solution, it was the first option of choice," says Felipe Gerais, a representative of Endeleza. 

Learn more about how you can use Bitrix24 as free non-profit management software.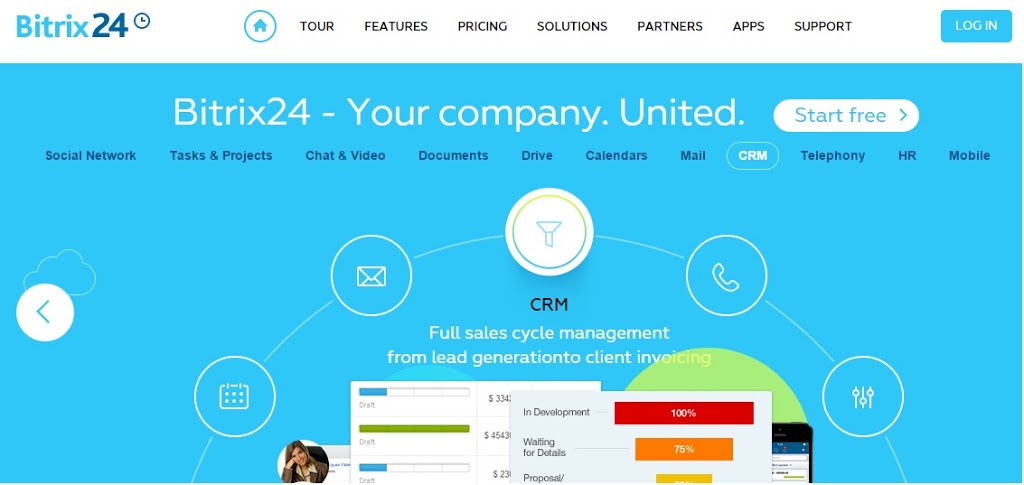 Most of the CRM applications with free basic plan allow only couple of users to have free account but Bitrix24 allows 12 users to create free account with 5 GB space. That is likely enough for a small or medium business to get start. 

Free CRM Bitrix24 account comes with unbelievable features–
– CRM includes almost all major business requirements like sales automation, contact management, quote management, business rules automation, invoicing, reports and sales funnel, direct email or call to clients from dashboard, integration with third party applications. It has mobile app for iOS and android to browse client records, create quotes, verify product catalog.
– It provides inter company social networking with 'Like' button, instant chat facility, computer telephony integration, photo and video sharing capability. It also includes employee motivational tools like badges, awards to show appreciation towards co-workers.
– It provides 5 GB free space for online file storage and document collaboration. There is no other CRM right now that provides 5 GB space with free plan. Also users can create or edit documents in Bitirx24 without any office suite.
– It has built in task and project management capability as well. Task can be created for oneself or assigned to colleagues, task report helps upper management to understand how much time an employee spends on a particular task.
Overall Bitrix24 is an application that helps an organization to run from one place.

Free account limitations:
12 users
5 GB storage
No record limit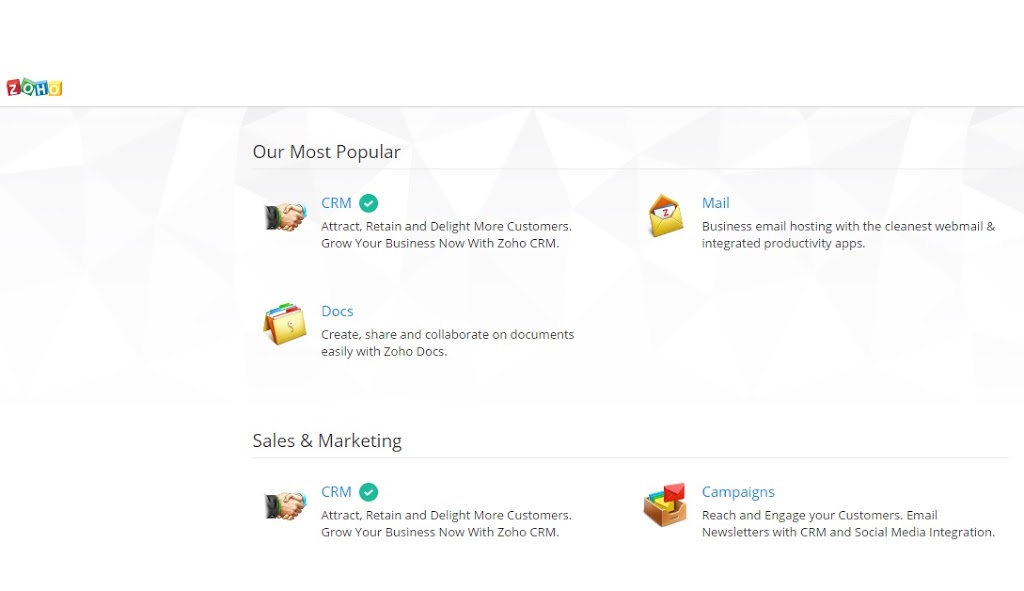 Zoho is well-known CRM application with great features. It has web apps for almost everything that aSME needs like CRM, email integration, file sharing, social networking. It's free edition allows an organization to create 10 free accounts with 1 GB space and limited functionalities but all these are sufficient for a small or medium company to generate leads, manage contacts and increase revenue.

Here are the few important features that Zoho CRM free edition provides:
– CRM includes almost all important features that an enterprise needs like sales force automation, marketing automation, lead management, contact management, quote management, live chat and email, tasks and activities handling, business rules and workflow management.
– It provides 1 GB space to an organization as document library. It can be used for file/folder sharing and documents attachment with file versioning capability.
– Zoho can be easily integrated with social networking sites like Twitter / Facebook or other Zoho apps like Zoho Projects, Zoho SalesIQ. It can be synchronized with various Google apps as well like Google calendar, Google contacts. Also it provides web to lead and web to contact form facilities to capture leads or contacts in web forms.
Free account limitations:
10 Users
1 GB space
No record limit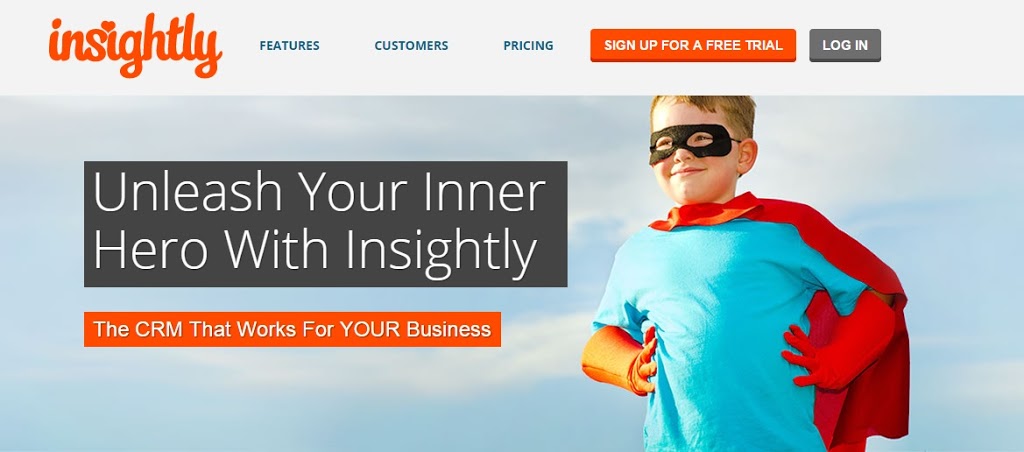 Insightly CRM free edition grants 2 free accounts per organization with 200 MB storage. It includes almost all basic CRM features like Contact Management, Project Management, Task/Event/Calendar Management, Opportunity Management, Social Networking, Reporting, Email Integration. It provides the capability to import contacts from Gmail or Outlook or a simple spreadsheet.

Main drawbacks of Insightly CRM Free plan – it limits to store only 2500 records and allows to create 8 custom fields. Also its free plan does not include email marketing. But if these limitations are acceptable and want a simple way to start CRM, it is worth to give a try.

Free account limitations:
2 Free users
2500 records
200 MB free storage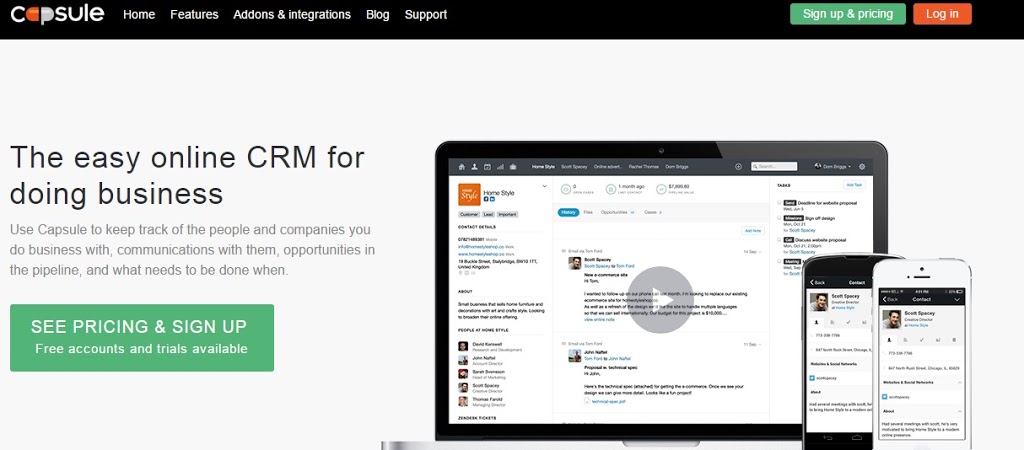 Capsule CRM is another lightweight and user friendly CRM application. Its free version provides very basic CRM functionalities with 2 free user accounts and 10 MB file storage. Beside CRM functionalities like contact management, opportunity management or task management, it has an unique feature called List. List uses filtering criteria based upon any possible options in CRM like name, updated on, type or status to group similar kind of contacts or opportunities or cases. With CRM object navigation bar at the top, there is a text link bar as well to bookmark contacts, cases or opportunities that you have accessed recently. Though it has good integration capability with other third party applications, free version has very limited integration features. Another drawback with free plan is that it allows to store only 250 contacts with unlimited opportunities and unlimited cases.

Free account limitations:
2 free users
10 MB storage
250 contacts with unlimited opportunities and cases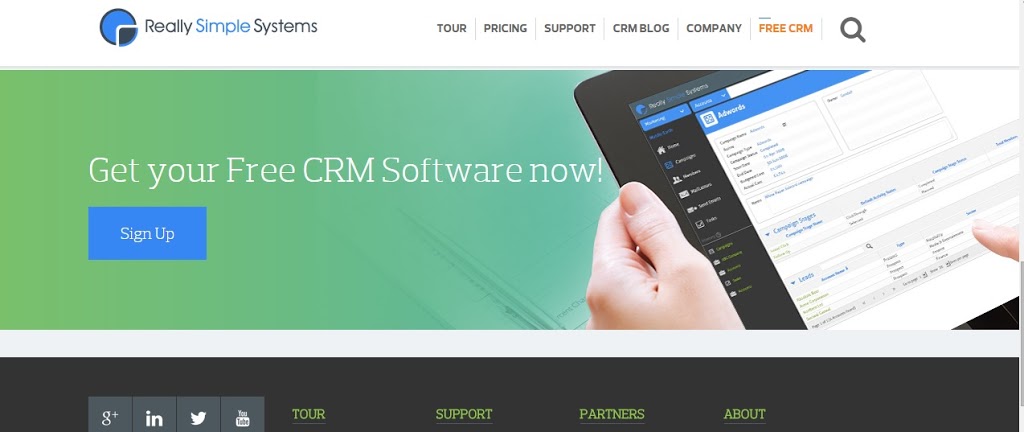 Really Simple Systems CRM is really simple application with great functionalities like Sales automation, Contact Management, Opportunity Management, Task and Activities handling, Reporting. It's free edition allows 2 users to have free account and 100 MB file storage. It also includes integration with KashFlow and SageOne accounting applications, custom reports, custom fields on all objects. 
Drawbacks: Free plan supports only sales automation, not marketing automation or customer service management. Also it limits to create only 100 accounts with unlimited contacts, tasks and opportunities.

Free account limitations:
2 Free users
100 MB storage
100 accounts with unlimited contacts, activities and opportunities
Via TechOneStop
Other links

1. Хallback form 

Callback request forms are nothing new. Phone is a perfect medium to have your questions quickly answered. But many prospects are cautious about leaving their phone number because they are afraid of hard sell. A new generation of callback solutions is smart – they analyze visitor behavior and engagement (generally measured by visiting multiple pages and spending over two minutes) before displaying a callback popup screen. Typically, the screen says something like 'You are welcome to keep reading information available on our website. But if you are busy, our consultant can call you back within the next 3-5 minutes and answer your questions about our CRM'. This is a win-win situation. You get a phone number and a chance to convert a prospect into a client, while the person on the other side of the screen gets a chance to talk to a real human being and get his questions answered quickly. 

2. Intelligent Call Routing 

New generation of online CRM and cloud contact center solutions come with ACD and ICR. ACD stands for automatic call distribution. It's a system that distributes incoming phone calls between your agents. ICR stands for intelligent call routing and it distributes incoming phone calls, well, intelligently. When an existing client calls your phone number, ICR system automatically routes the phone call to the manager who has been assigned to this account. If you have a new caller on the line and the phone call gets dropped for any reasons, when this caller dials your number again, their call will not be put in the phone queue but rather routed to the agent who this person talked to before. Finally, if a new person calls your company and his call is transferred to a certain employee, when the caller contacts you again, the system will route the call to the same employee. ICR systems are designed to save time and avoid unnecessary transfers. Pretty smart, aren't they? 

3. Caller IDÂ 

All modern CRM systems come with CTI (computer telephony integration). Caller ID is an essential part of any CTI system. It checks the caller phone number against your CRM records. When a match is discovered, an agent sees the name of the person who's calling and the history of recent interactions. This gives him or her a chance to greet the caller by name and anticipate the reason for calling ('Hi Betty, I bet you are calling to find out if we sent you the contract yet'). It's a small thing, but it does make an impression on your clients.
We were lucky to launch Bitrix24 before Slack. Actually, the self hosted version was released WAAAY back in 2008, and was called Bitrix Intranet CMS. Since we are more popular than Slack in some geographic locations, like Eastern Europe or India, and with some demographics (non-tech businesses, solo entrepreneurs), I'd like to share ideas about what we see as Slack's shortcomings that we and other software vendors can capitalize on. And yes, since we knew most of that that before Slack even existed, this is pure link baiting and traffic whoring.
1. Solo use
We do a lot of work with others, that's why we need collaboration tools. But we do even more work on our own. Think about that for a moment. The reason why Slack or Yammer grew so quickly is because one person who learned about those would instantly involve 5–10–50 other people. Which is good for viral growth, but leaves out people who work alone or have only 2–3 people working with them. If you look at tools that are useful both for collaboration and as solo tools, say Trello, they've already exceeded 10 million users. At Bitrix24, 12% of active accounts are used by solo users (most popular tools are free CRM, free tasks, telephony and shared calendars for appointment scheduling). Slack is useless for a single user. Your solution shouldn't be.
2. Size matters.
If you don't know who Stowe Boyd is, you should read everything the man has ever written on the subject of collaboration. It's pure brilliance. Nobody else comes even close. He even invented the term hash tag, for Christ's sake. And his Twitter pic looks like he's Robert Anton Wilson. Stowe 'predicted' the fall of Yammer and the rise of Slack. Well, sort of. His observation was simple. Most collaborative work happens in the groups that are small. Up to 10 or 12 people. Remember Jive? Or Yammer just four years ago when it got bought out for $1.2 Billion? Stowe saw that social network format is inconvenient for 10 people working together, but chat is perfect. Think about that. Slack channel with 10 users is awesome. But a forum with 10 people in it is dead. Same a for social network, even though those two media can perfectly be used for exchanging ideas, just like chat. Now picture Slack channel with 1000 users. Utter chaos. But a forum with 1000 users is a vibrant community now.
This means that Slack comes in with a built-in handicap. Yes, you can buy Slack for a company with 5000 employees. But it won't help it one bit. It's important to understand that collaboration tools come with very real limitations that dictate its usefulness range. Fewer users than needed, more users than intended and you are dead in the water. I have no idea how Slack is going to solve this dilemma since it's clear that they are gunning for the enterprise market, just as it is that it's useless for large companies that it vies for. Maybe that's why that 'Enterprise' plan on Slack's pricing page is 'coming soon' for over a year now. For the record, we killed our Enterprise plan in 2013. Been there, done that. Finally, we sold Bitrix24 to a bank with 320,000 employees and a holding company with 600 subsidiaries/500,000 employees after realizing that large enterprises don't want enterprise plan, they want enterprise value.
3. Many sizes fit many
This is a continuation of the previous point, but in a way it's a different one as well. Different companies collaborate in a different way. Or, to be more precise, using different tools. Most web studios use project management solutions. That's how they think about creating new websites — as projects. A web studio may use Slack as well, but they aren't giving up their Basecamps and Asanas. Developers may very well use Slack, but they are also very fond of their Githubs and Jiras. Universities use neither, usually, but they love social intranets, wikis and knowledge bases. You can even build collaboration around CRM or Dropbox. You may look at Slack and think for it that proves the mantra 'do one thing, but do it best'. I beg to differ. If Slack adds decent task management, it's death to Asana and Basecamp. Well, maybe not death, but it's gonna hurt. But a far likely scenario that in a year, all task managers will come with IM that are almost as good as Slack for all practical purposes. And people who pay for Slack and Asana or Slack and Trello will drop Slack. They simply won't need it any longer. Slack in three years may end up in the same place Yammer is now.
I have written about this subject extensively before. I am going to steal from Stowe again and invent a new term 'Saasicide' (just Googled it, I'm the fist) to describe the massive die off of countless task managers, CRM systems and Slack copycats, who did not yet realize that for any service to be useful it has to come with a MINIMUM of client management, task management, document management and instant messenger in a single package. It won't take long — two years max.
4. Price matters
I am going to refer you to How Bitrix24 Thinks About Freemium on order to avoid repeating myself. Slack's innovating freemium plan has helped the growth tremendously. Find a way to beat it, and this probably means giving away the 'Slack' part of your product absolutely free without any limits because you are making money elsewhere, and you have a fighting chance. Remember, collaboration wants to be free.
5. Assisted collaboration
Everybody talks about driverless cars, but think how far we've already come. Hydraulic power steering, cruise control, auto-parking, folding mirrors, tire pressure monitoring, traffic sign recognition, rear reversing cameras, sensors of all kinds — when you buy a car in 2016, it'll probably come with all of these. Our new Nissan did. And you probably know how helpful all of these are.
Today's collaboration platforms remind me driving without power steering. Slack is far, far ahead of competition here, but again, it's all limited to chat bots which only work with IM. Far more opportunities for assisted intelligence exist when you break out from the IM ghetto.
I could add a couple more points, like ability to have self hosted version that you can install on your server, which HipChat has recently done, and we've had for ages, but I think these five are the most important ones. Did I miss anything big?
— — — — — — — — — — — — — — — — — — — —
If you enjoyed this post, you'll probably want to read:
How Bitrix24 Thinks About Freemium
What US Developers Should Know About The Rest Of The World
10 PR Strategies For The Cashed-Strapped Startups
Why We No Longer Pitch TechCrunch
Christine K. Clifford, CSP is the author of nine books including Let's Close a Deal! Turn Contacts Into Paying Customers for Your Company, Product, Service or Cause and  YOU, Inc. The Art of Selling Yourself. She is CEO/President of Christine Clifford Enterprises and The Cancer Club, helping companies and individuals craft their story and designs "knock your socks off" Media Kits for companies, individuals and entertainers. 
Let's start with a basic question – what are the biggest negotiation mistakes that novices make? 
The biggest mistake made by most sales people—both new and old—is thinking of a sale in terms of "What's in it for you, and what's in it for me?" I call this the typical "Win-Win" situation. Rather, a sale always has a third party beneficiary: your company, your family, a charitable organizations, etc. So instead, look at the sale as, "What's in it for three?" I call this the Win-Win-Win. If you keep in mind all parties involved, you have a much greater chance of success. 
What is the quickest way to improve your negotiation skills within a short time period, say, six weeks? 
Ask everyone you know (your boss; colleagues; friends; family) what you are doing right, but more importantly, what are you doing wrong? This information can be gathered fairly quickly and you can start acting on it immediately. 
Face to face meetings and personal interactions are becoming increasingly rare. How do you negotiate in the age of Facebook, Twitter and Whatsapp? 
Getting your face—and body—in front of a potential client is still the best way to close a deal. But if you can't accomplish that, send a short video, Skype, or Facetime so you can actually interact with the other party. 
Many newer companies, especially startups, take pride in the fact that they don't have a sales department single sales person, even in the niches that are still dominated by direct sales, like enterprise software. What's your view on this trend – is salesmanship a skill that's going to be always in demand or are technological advances, especially Big Data, leaving less and less room for 'old school' sales tactics? 
We are all salespeople… in every aspect of our lives. So the question is not, "Is there a need for a sales person?" But rather, "How can I be more effective?" Every person in every organization is a "face of the company." And because of that, they are selling the company/product/service/ or cause. But this becomes even more reason to be as effective as you can be given the small amount of time or exposure you may have to a potential client. 
Could you please give a few specific tips for negotiating over the Internet – email, LinkedIn, Skype, etc. 
I sold a $2500 sponsorship to PORSCHE by simply sending a cold/call query email. Why did it work? Because it captured their attention, explained briefly what the benefit would be to them to participate, provided a history of the success of the organization I was soliciting for, and asked them for their business. Tips for negotiating over the internet are these: be brief, brilliant, bold and brave. 
If you were to pick one person to be world's best negotiator of all times, who would that be and why? 
Taylor Swift has become one of the world's best negotiators because she has clout; she asks for what she wants/needs in a way that is not offensive; and she is liked—no loved—by all. Positioning yourself in a place where you cannot fail is what Taylor has accomplished in a culture-changing way. 
What books, blogs, podcasts and other resources would you recommend to our users who want to learn more about negotiating successfully? 
I would recommend my two books: Let's Close a Deal: Turn Contacts into Paying Customers for Your Company Product, Service or Cause, and YOU, Inc. The Art of Selling Yourself. 
Thank you for the interview. 
Bitrix24 is a free social collaboration platform. Use promocode TIP10 when registering your free Bitrix24 account to get extra 10GB.